As part of Still Standing magazine, bereaved Mama's are given the opportunity to share where they are at in their grief journey. Today is the first chance to link up, so I wanted to share where I'm at in my grief journey.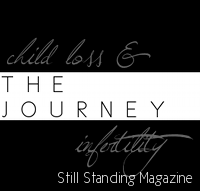 I am 29 months, 23 days into my journey. I am more lost today than I was on that awful day in November, 2009. I have suppressed my grief for so long that it has started to affect me in ways that I didn't know were possible. I'm a very private person when it comes to people I know in real life. I don't want anyone to have pity for me or feel bad for me. I prefer for people to see this strong, determined and passionate Mama who refuses to let anything get to her. Yep, that's me. It's a rare occasion for people I interact with daily to see me upset. My friends, co-workers and even my family rarely see me upset. I keep to myself and as hard as I try, I can't break away from that. I'm not quite sure how I hold it together sometimes, but it has a lot to do with taking the spotlight off of me and putting it on to someone else.
I started therapy in January and although it's helped tremendously, I still have a long way to go. My therapist is amazing. She came into my life at the perfect time and I am so grateful for her.
I just hope that in reality I am moving forward because in the little bubble I live in, it sure does feel like I'm right where I started 29 months, 23 days ago.