WARNING: This post contains pictures that may be disturbing to some.
During the week leading up to Erik's funeral, I continued to snap pictures. As much as I wished I still had my boy, I knew that I would eventually want to document his death. The only way I knew how to do that was through pictures. I had my best friend take pictures of everything before Erik was buried. That included Erik. I swore I would never show anyone the pictures, but here lately, the images in those pictures have steadily been haunting me. When I close my eyes, I don't see the beautiful brown eyed boy who was so full of life. I see the swollen, lifeless body laying in that wooden casket.
I thought I had hidden the pictures from myself until I came across them on Sunday as I was cleaning out our playroom/scrapbooking room. I was throwing stuff away left and right and as I cleaned out the last drawer in my scrapbooking shelf, the pictures fell out. I was literally gasping for breath.
I decided that I needed to put the pictures on my blog so that I could basically let go of them like I do all my thoughts, but I wanted to white out Erik's face so that nobody else has those awful last images of his beautiful face etched in their mind the way that I do.
Erik looked nothing like himself and it breaks my heart that the funeral home didn't do a better job, but I know they did the best that they could. His hands and face were so swollen from the accident and I could tell that his eyes were gone because of the way his eyelids were.
2 years, 2 months and 15 days later, I can still smell that familiar smell of the funeral home (I haven't been in that funeral home or any funeral home since Erik died). I can still smell the formaldehyde used to embomb his little body. I can still see the stitches poking out behind his ear from where the autopsy was performed. I can still feel his cold, hard hands in mine.
These memories are some of the few that I wish I could forget. These memories are the ones that stand out over ALL the memories I have of Erik during his 5 years of life. This is the hell that I live in every.single.day.
We had to make sure he had his favorite blankie.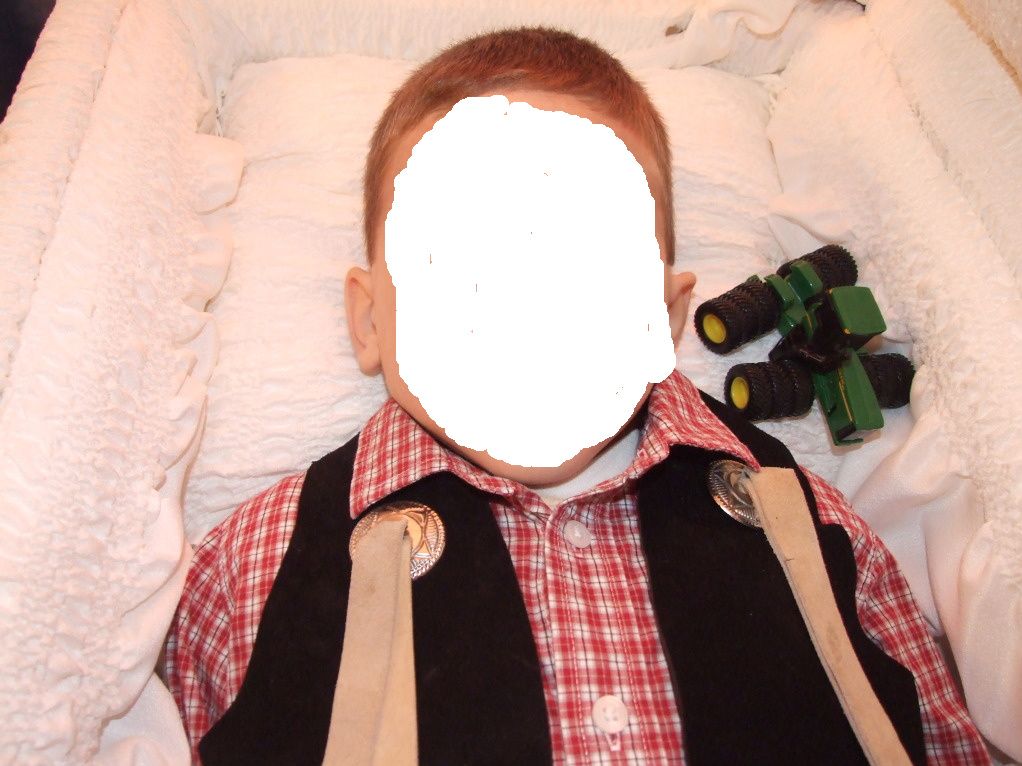 Had to have a big green tractor too.
The medal is from his bff from Kindergarten. It was his wrestling medal.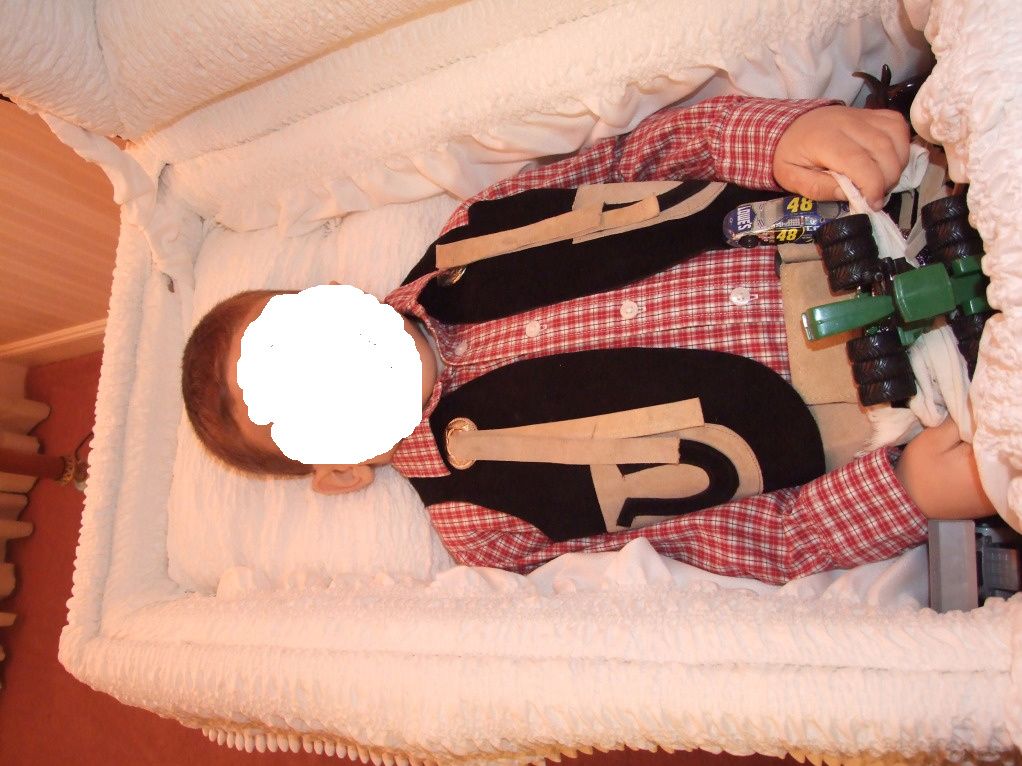 We put everything down inside the casket so it wouldn't be up at his face.